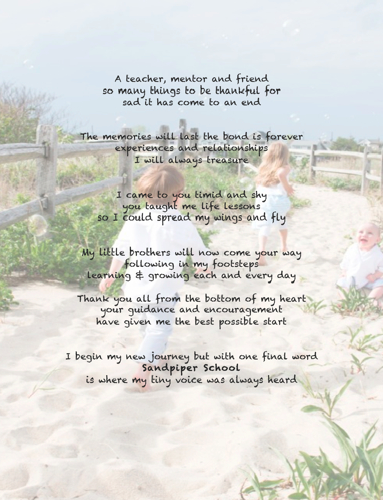 Sandpiper Fan Club...
By
Nadine Piccolo Siciliano
My daughter started at Sandpiper this past September and she is absolutely thriving. The teachers and administrators are so personable and show a genuine care for each and every child. I was so nervous about entrusting the care of my daughter to someone outside of her parents. I honestly couldn't feel happier that we found Sandpiper and that she is being nurtured by such compassionate and loving individuals.
By
Amie Keegan
If you are looking for an AMAZING pre-school where your children have fun learning and you feel like you are leaving them with family, look no further! We have been part of the Sandpiper community for the past two years and I can't say enough positive things about it. The dedication and compassion of each teacher is evident on each little face that leaves there smiling daily and on every hug given each morning upon arrival. My children actually cry when they are sick and have to stay home from school. I will recommend this school over and over and over again!
By C. A
ccurso
I can't say enough great things about this school. My son has blossomed his last 2 years going there. The teachers are amazing and really give so much one on one time to all of the kids. They prepare them for kindergarden and teach life lessons including social interactions with other children, coping with being away from Mom for the first time, the importance of good manners, and of course the academics! My child has grown so much, and I credit Sandpiper and the teachers there with a great deal to do with it! He loves going to school and learning! I would HIGHLY recommend this pre-school!
By J
ess Ludwig
Sandpiper School is fantastic! My children have been going there for the past 5 years, and I have another son scheduled to start in the Fall. The classes are small and you can really get to know the teachers and the other families. It has a wonderful small-town feel, and the children all love it there. They put on adorable holiday shows for parents and family too! All in all, I would highly recommend this as a top-notch pre-school option!
By
clangpac
Our family feels very fortunate to have found Sandpiper School!!!! Our experience has been--FABULOUS! The professional staff truly understands the developmental and emotional needs of preschoolers. They are supportive and encouraging of each individual student, and foster confidence in each child's abilities while igniting their imaginations and preparing them for success in their academic endeavors. We love that Sandpiper celebrates CHILDHOOD and the precious years children should have to discover themselves as people outside of their homes. Sandpiper values play and social interactions as crucial building blocks for the development of thoughtful, socially aware people. Let's face it, no one likes a brat, no matter how smart they may be. Our son has transitioned into kindergarten beautifully and we have every reason to believe our daughter will too. Sandpiper has provided our children with the most fantastic experience and I give them tremendous credit for making my children's first school experience so wonderful!
By K
endys Kids
I can't say enough good things about Sandpiper. My family and husband's family have been going there for the last 25 years. My 3 year old son currently attends and he LOVES school. I was nervous at first because he has always been with family, but the teachers are absolutely amazing and cater to every child's personality. The classes are small so all the kids get a lot of attention. My son comes home smiling everyday singing the songs he learned in class. GREAT GREAT GREAT pre-school!
By Elizabeth H.
I sent my daughter here from the time she was 2.5 until kindergarten and my son for the same amount of time, until a few months shy of graduation we had to move to CA. There is NOTHING on the west coast that compares to this school. I love the teachers! It has an old-school approach to socializing and learning. They focus on instilling confidence and manners as opposed to being impressed with themselves for a 3 year old spiting out facts without a context for applying what they are "learning". I loved it and am disappointed that my third son will not have the chance to attend Sandpiper.
By Kristin Coman
My family has gained so much from the dedication and love that I have witnessed from the teachers in this school. I have no doubt that being part of the Sandpiper family has provided my children a positive and healthy outlook on learning and connections that will last a lifetime!
---
If you would like to be added to our Fan Club, please submit your story/experience with us at info@sandpiperschool.com